Biwako Traverse Route
(from either Imazu Port or Nagahama Port)
Fares
Adult ¥2,880
Students ¥2,300 *2
Children ¥1,440 *3


The rate includes 10% consumption tax.
Contact & reservation
Contact the Nagahama Office or Imazu sales office.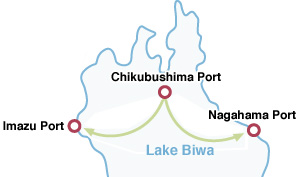 You may board the cruise following the one scheduled, if you would like more time on Chikubushima Island. However, please make sure to consult with the cruise staff prior to your scheduled original departure time.
*1Groups of 15 or more receive a 10% group discount.
*2Please show proof of your status as a student (for junior high / high school / university students).
*3For children 5 and under, 1 free fare is included with each adult fare (if accompanying 2 children 5 and under, 1 child fare is required). However, this system does not apply for groups of 15 or more.
Notes for 3 routes
*1Changes to scheduled departure and/or arrival times may also be caused by large numbers of passengers, privately chartered cruises, strong winds or rain, etc.
※ If visiting after arriving on Chikubu Island, 500 JPY for adults and 300 JPY for children is required.