Imazu Route
(Imazu Port ←→ Chikubushima Port — round trip)
Fares (round trip)
Adult ¥2,590
Students ¥2,080 *2
Children ¥1,300 *3
Contact & reservation
Imazu Sales office TEL.0740-22-1747 FAX.0740-22-3559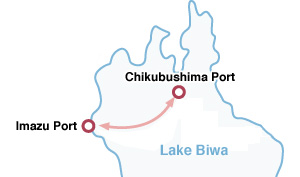 Daily cruises from April 1 to Dec. 2, 2018, and Mar. 10 to 31, 2019
Cruise
Dep.
Imazu Port
Arr.
Chikubushima
Sightseeing
stop
Dep.
Chikubushima
Arr.
Imazu Port
(9:40)
(10:05)
No sighteeing
stop
10:10
10:40
①
9:40
10:05
75min.
11:20
11:50
②
10:50
11:15
75min.
12:30
13:00
③
12:00
12:25
75min.
13:40
14:10
④
13:10
13:35
75min.
14:50
15:20
Extra Cruises
Saturday, Sunday, and holiday cruises from April 28 to Dec. 2, 2018, and daily cruises on
May 1 and 2 and Aug. 13 to 16, and group reservations
Cruise
Dep.
Imazu Port
Arr.
Chikubushima
Sightseeing
stop
Dep.
Chikubushima
Arr.
Imazu Port
Extra cruise
14:20
14:45
70min.
15:55
16:25
Winter schedule for the Imazu Route
Saturday, Sunday, and holiday cruises from Dec. 3 to 28, 2018, and April 1 to March 8, 2019
Cruise
Dep.
Imazu Port
Arr.
Chikubushima
Sightseeing
stop
Dep.
Chikubushima
Arr.
Imazu Port
①
10:30
10:55
80min.
12:15
12:45
②
13:00
13:25
80min.
14:45
15:15
New Year's Holiday Cruise
Daily cruises from Dec. 29, 2018 to Jan. 3, 2019
Cruise
Dep.
Imazu Port
Arr.
Chikubushima
Sightseeing
stop
Dep.
Chikubushima
Arr.
Imazu Port
①
9:40
10:05
75min.
11:20
11:50
②
12:00
12:25
75min.
13:40
14:10
③
14:20
14:45
70min.
15:55
16:25
Schedule may change if "Oisade" fishing is held.
*1Groups of 15 or more receive a 10% group discount.
*2Please show proof of your status as a student (for junior high / high school / university students).
*3For children 5 and under, 1 free fare is included with each adult fare (if accompanying 2 children 5 and under, 1 child fare is required). However, this system does not apply for groups of 15 or more.
Access for Imazu Port